Kärcher Coral Estate Classic 2023
The Coral Estate Classic is one of the MTB classics on the island. Since 2018, Caribbean Fasteners has been the main sponsor of this beautiful MTB race with the Kärcher brand. The starting signal is given at the Coral Estate Resort, where the public gathers on the pier to cheer on the riders. After a challenging race through the hills and salinas of Banda'bou, the finish is also at Coral Estate, where the Caribbean Fasteners team is ready to remove all dirt and clean the bikes with Kärcher high-pressure cleaners. The race is seen by many as the perfect warm up for the Duo Xtreme, which takes place a week later.
Date: Sunday November 12, 2023
Start: 7.30 hrs
Start location: Pier Karakter
Finish location: Coral Estate Centre – Pizza&More
Course length: 10 kilometers
Elevation: 95 m
The start is on the pier, then the participants ride 1, 3 or 4 laps (without pier)
PLEASE NOTE: THE NUMBER OF LAPS HAS CHANGED FOR MASTER C, FROM 4 TO 3
Elite and Masters A, B and juniors 17-18: 4 laps (40 km/380 hm)
Master C, Women and Juniors 15-16: 3 laps (30 km/285 hm)
Beginners: 1 lap (10 km/95 hm)
Kids 12 years and up: 1 lap (10 km/95 hm)
After you have registered online, you can pick up your steering board for the Kärcher Coral Estate Classic at Dasia Cycling on November 11 between 10 a.m. and 1 p.m.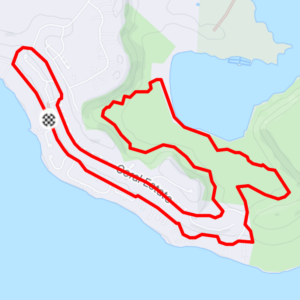 You can find the digital route of the Kärcher Coral Estate Classic in the club event on Strava.